New York City Mayor Eric Adams says he "slept like a baby" in the new giant migrant shelter after days of controversy over camps for migrants who refused to move to shelters last week.
"I slept like a baby. It was warm. I had a nice little blanket. It's my favorite blanket. I'm like Linus from Charlie Brown," Adams said in Fox 5's "Good Day." The mayor visited the Brooklyn Cruise Terminal Relief Center in Red Hook overnight for one of the coldest nights on record this year.
Last week, a group of immigrants staying at the Watson Hotel through a taxpayer-funded relief program refused to move to the new Red Hook facility. A group of individuals camped outside on the sidewalk of his $300 a night hotel in Midtown Manhattan to protest.
Illegal immigrants refuse to leave New York hotel for Brooklyn Immigration Relief Center, sleep on streets
The city prepared to move these immigrants, especially single adult men, from the Watson Hotel to the Brooklyn Cruise Terminal facility, but last week faced backlash from more than 50 people who camped outside the hotel. The NYPD eventually cleared the remaining holdouts from the sidewalk encampment days later.
Some left the hotel and headed to the Migrant Crisis Center, only to return claiming the facility lacked heat and water. Adams was quick to react to accusations that the shelter had forced immigrants into inhumane conditions. The mayor's Friday night stay at his 1,000-hit crib shelter appears to be the latest move to persuade opponents.
Biden avoids mentioning NYC immigration protests during city visit, touts heavy spending at rail yards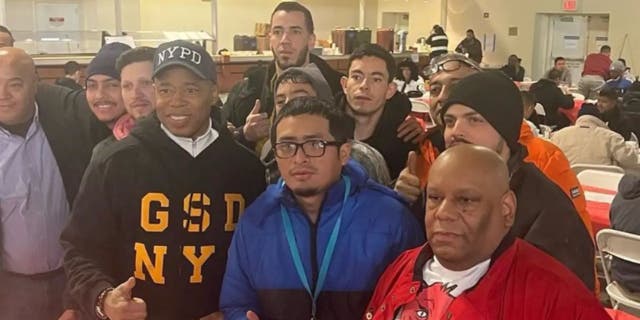 "I had my favorite blanket, I hugged it and had a sweet dream, and then I woke up the next day, had breakfast, sat down and talked to the asylum seeker," Adams said.
Red Hook Migrant Shelter is one of five shelters in New York City called the "Humanitarian Emergency Response and Relief Center," said the mayor's statement. It was built to house immigrants.
CLICK HERE TO GET THE FOX NEWS APP
The Brooklyn Cruise Terminal Humanitarian Emergency Response and Relief Center was due to open after Adams said NYC had reached its "breaking point". The center, which will close before the cruise season this spring, will "provide adult men with a place to stay, access support and reach their final destination."