This is the second in a two-part series analyzing FOX News' power rankings ahead of the second Republican presidential debate in 2024.read Click here for Part 1.
Wildcard
Gov. Chris Christie is a wild card in this race. As this column pointed out, there is a "no-Trump" lane in this primary, with 25% of likely voters saying they do not support the former president.
Mr. Christie is the only candidate targeting these voters exclusively.
FOX News Power Rankings: 2024 Republican presidential front-runners, challengers, and second-place candidates
In New Hampshire, Mr. Christie continues to perform well compared to national and other state polls. If he draws delegates there, he could be one of the few candidates still in the conversation heading into Super Tuesday.
Outsider
Gov. Doug Burgum remains in 8th place but falls into the "outsider" tier, while former Gov. Asa Hutchinson remains in 9th place. Neither candidate has gained much momentum after the first debate, and it is not yet clear whether they will qualify for the second debate.
Longshot Republican presidential candidates vie for second debate next week
Former Congressman Will Hurd remained in 10th place, while Larry Elder moved up to 11th place after Mayor Francis Suarez suspended his campaign.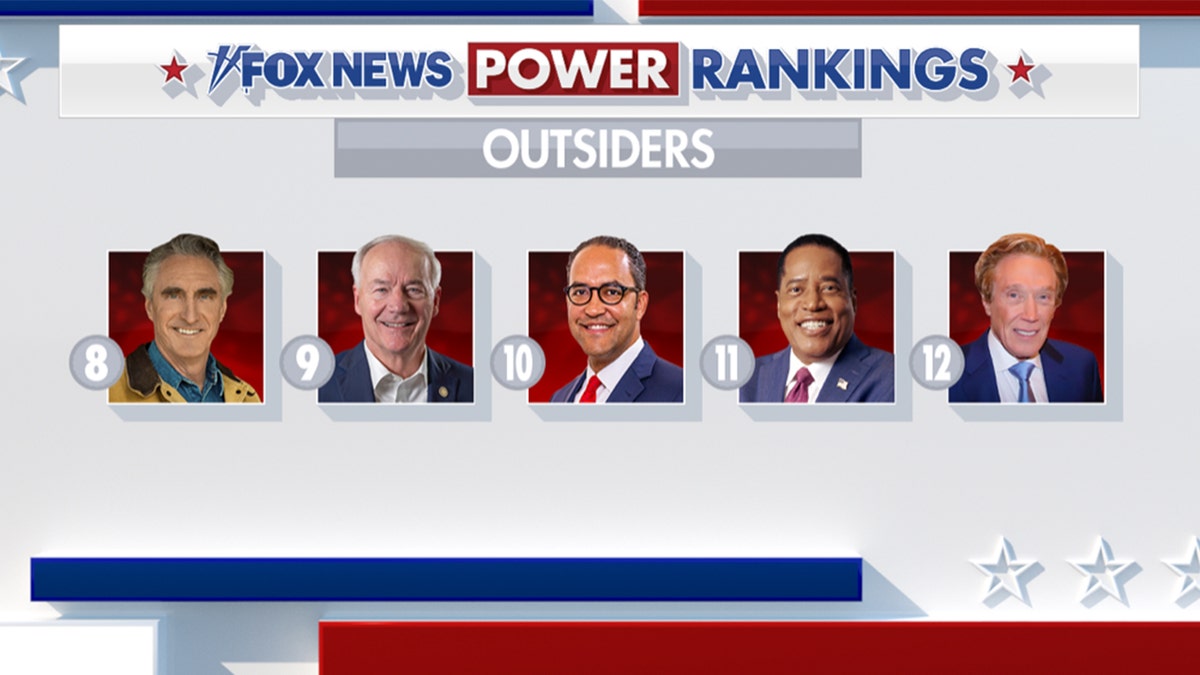 Perry Johnson, a businessman who met several criteria to attend the second debate, came in at the bottom of the rankings.
The second debate will be broadcast next Wednesday.
FOX Business and Univision will host the second Republican debate next Wednesday, September 27th at 9pm ET at the Ronald Reagan Presidential Library in California.
Moderators are Dana Perino and Stuart Varney from Fox and Ilia Calderon from Univision.
CLICK HERE TO GET THE FOX NEWS APP
Live coverage begins at 8:00 PM ET on Fox Business Network and 8:30 PM ET on Fox News Channel. The debate will be simulcast on both networks, along with Univision and streaming partner Rumble.