First appearance of Fox: The Department of Homeland Security targets conservative Americans, and Christian and conservative groups, as well as Republicans, have been blamed for funding college programs that clearly put them in the same category as the Nazis. Rep. Andy Biggs (R-Arizona), in a letter to DHS Director Alejandro Mayorcas obtained exclusively by Fox News Digital.
Biggs, along with 15 House Republican co-signatories, sent a letter to Mayorkas on Friday calling on the Department of Homeland Security to stop allegedly targeting political opponents of the Biden administration.
"Under your leadership, the Department of Homeland Security has repeatedly targeted conservative Americans who legitimately express their First Amendment rights," the letter said. "The Constitution prohibits the federal government from suppressing the freedom of speech of Americans by any means, including using third parties in unconstitutional attacks on free speech. The federal speech regulation regime continues to become the norm under the Biden administration." "
Biggs emphasized the Department of Homeland Security's subsidy program that funds organizations that "openly demonize mainstream conservatism and equate it with domestic terrorism," adding that "this un-American political motivation It is Mr Mayorcas' duty to prevent the targeting of ideas by
College Program Bringing Christians, Republicans and Nazis Together Grants DHS Fund Under "Anti-Terrorism" Initiative
The letter cites an article first reported by Fox News Digital in May, detailing how DHS, through its counter-terrorism subsidy efforts, paid taxes to college programs that clearly targeted America's political rights. It shows who donates money.
of Media Research Center Documents obtained by a conservative watchdog group through the Freedom of Information Act spotlight recipients of the controversial DHS Targeted Violence and Terrorism Prevention Grant Program (TVTP). Government efforts fund various public, private and non-profit institutions, such as universities and county governments, to "establish or strengthen their capacity to prevent targeted violence and terrorism." Grant applicants must be based in the United States and conduct a US-based program.
The Biden administration has awarded 80 grants totaling just under $40 million through TVTP. DHS has named one of its TVTP goals as 'Media Literacy and Online Critical Thinking Initiatives', which many grantees cite as the project's mission.
One of the grant recipients was the University of Dayton. Prevention-OH ProgramDHS awarded $352,109 to "leverage the expertise of the University of Dayton faculty" to combat "domestic violence extremism and hate movements."
College Grant Application Submitted to DHS Linked to the controversial Dayton conference in a footnote There, academic researchers presented a chart titled "The Pyramid of Far-Right Radicalization".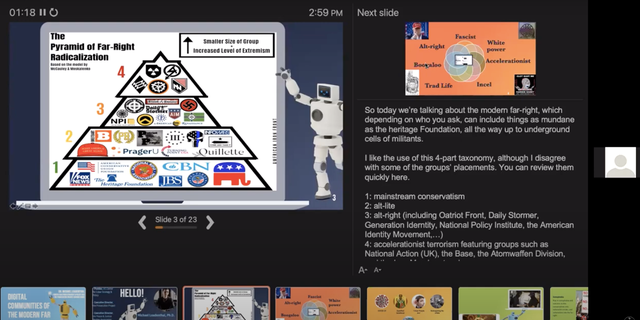 Some of the organizations and movements on display at the Pyramid are the Republican Party, Heritage Foundation, American Conservative Coalition, Fox News, Breitbart News, National Rifle Association, Prager University, Tea Party Patriots, Make America Great Again ( MAGA) movement, the Blue Lives Matter movement and the Christian Broadcasting Network in support of the police.
The pyramid also includes hate groups such as the neo-Nazi militia organization The Base and the pro-Nazi publication The Daily Stormer, apparently comparing them to mainstream organizations such as the Republican Party. .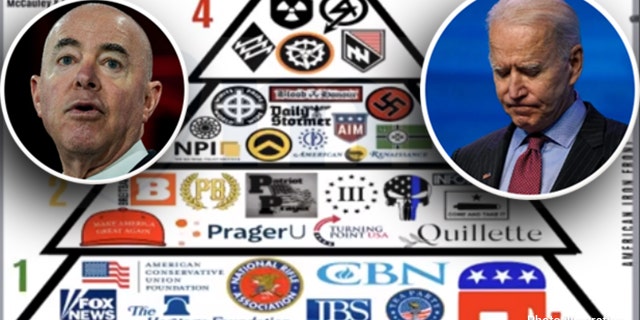 In 2021, the University of Dayton held a seminar called "".Extremism, rhetoric and democratic instabilityfeatures several extremism pundits who compared mainstream conservatives to genocidal extremists.
A video of the meeting was linked to the university's DHS grant application, which it said demonstrated the university's efforts to "assess community needs and capacities to prevent violent extremism." and directed government evaluators to watch this video for more information.
One of the speakers at the conference presented the "Pyramid of Far-Right Radicalization". Another researcher compared the Trump administration to Cambodia's Pol Pot regime's Khmer Rouge, which killed an estimated 1.5 to 2 million people between 1975 and 1979. A third presenter compares Florida Governor Ron DeSantis' proposal to create a private volunteer army to assist the National Guard in emergencies such as hurricanes to the Nazi Holocaust during World War II. bottom.
Another speaker at the event was a DHS employee who appeared in a virtually official capacity and delivered a short presentation.
"Extremism, rhetoric and democratic instability" weren't the only controversial conference held by the University of Dayton. Another seminar "Caucasian Nationalism Workshop The same researchers who published the "Pyramid of Far-Right Radicalization" describe how "anti-fascists" can destroy alleged fascists by monitoring, infiltrating, and physically confronting alleged fascists. We talked and explained how they could be "off-platform," comparing them to the mainstream political right.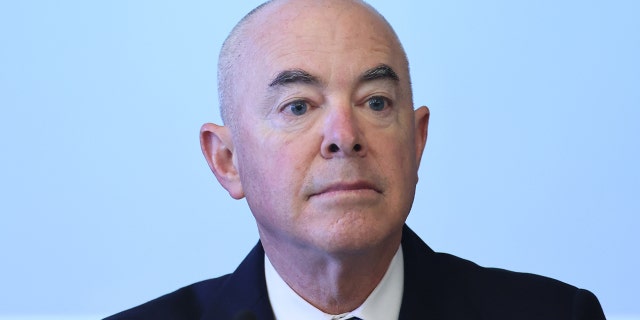 DHS warns of 'rising threat environment' in US amid 'political tensions'
At the same event, another professor displayed images of anti-coronavirus lockdown and anti-vaccine mandate protesters, suggesting they were permeating hate groups.
PREVENTS-OH advertised its work in the city of Dayton with a caricature of a Second Amendment supporter over the words "Why are we becoming a radicalized society?" It sent the city an image titled "Anti-Rights Movement and Democracy Regression." "
Both DHS and the University of Dayton pointed out that the controversial meeting was separate from DHS funding PREVENTS-OH and preceded it, and the constitutional It added that it does not target or discriminate against groups that express their rights. Both made no mention of the fact that the school had included the seminar in its grant application, reviewed by DHS.
"President Biden's authoritarian Homeland Security Department is weaponizing limited taxpayer money and spare resources to crush American conservatives," Biggs told Fox News Digital. "This department seems to take direct cues from George Orwell's 1984 novel about a police state controlling all speech and suppressing all dissent. America will never become such a society. must not."
"Secretary Mayorkas fully answered my question, a multi-million dollar counter-terrorism program designed to stop the next Osama bin Laden is being used to prey on innocent conservatives. We need to justify the reasons," he added.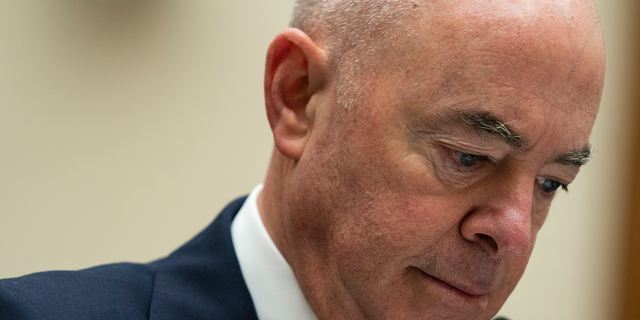 Biden's 'leak' battle heats up as Republicans accuse officials of using the truth to run politics
Biggs' letter asks 16 questions about TVTP subsidies and DHS's efforts against extremism and terrorism, and requires responses by June 11.
The letter also talks about awarding seminars led by "extremists" rather than targeting groups that "promote and amplify insurgency and racial violence like Antifa and Black Lives Matter." criticizing DHS.
The document states that the Biden administration has provided organizations and local governments "that lack the ability to distinguish domestic terrorism from speech and legitimate political decisions with which they do not agree" with subsidies related to combating domestic radicalization. should not be given.
In the letter, Biggs said it was "particularly concerning" that the TVTP grant had attracted the attention of DHS leadership. In a document obtained by the Center for Media Studies, Mayorkas said the program was a "high priority."
"Secretary Mayorcas thanked the grantees for their work and reassured everyone in attendance that the program is a priority for the department and the work being done is of paramount importance," Maryland Emergency Management said. The agency noted in notes and documents. A view of the 2022 TVTP Grant Recipients Symposium hosted by Mallorcas.
The letter comes amid calls for Mr Mayorcas' resignation in response to the ongoing crisis on the country's southern border. Several Republican lawmakers are pushing the idea of ​​impeaching him for alleged dereliction of duty.
Biggs and his letter co-signatories weren't the only ones who took notice of Fox News Digital's coverage of the DHS grant to the University of Dayton.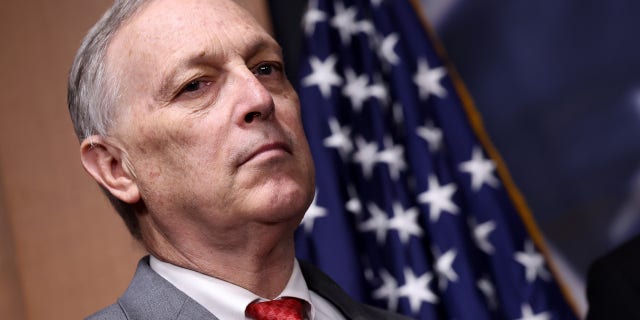 Chief executive officer?Biden repeats attacks on political opponents while calling for unity
Sen. Ted Cruz (R-Tex.) also highlighted this story on his podcast earlier this week.
"This is the latest example of the Biden administration willingly willing to weaponize the federal government to use its powers to target you," Cruz said. "They are engaged in propaganda that says the center-right is a terrorist, the center-right is a Nazi, the center-right is a Klansman. A vicious lie that the Radical Left so often inflicts…why the government? Are they funding this? They are funding it to fuel fires that attack those they see as enemies of the regime."
Cruz criticized the double standard that many academics and US officials target conservatives while giving less attention to extremist groups such as Antifa. He added that both the House and Senate should hold public hearings on the issue to investigate whether taxpayer funds are being used responsibly for anti-extremist programs.
DHS did not respond to a request for comment on this matter.