Members of a Maryland task force aimed at combating hate crimes have claimed that the infant brutally killed in the Oct. 7 Hamas attack was a "fake" and called the state of Israel into Nazi Germany. He published many anti-Semitic social media posts, including using analogies.
Zainab Chaudhry, an anti-Israel activist and director of the Maryland office of the Council on American-Islamic Relations (CAIR), made the post in the weeks following the Hamas attack that killed more than 1,200 people, including children. went. In addition to infants, numerous rapes and property damage also occurred.
In a Facebook post dated Oct. 26, Chaudhry wrote: "Why is the world so angry about 40 fake Israeli babies while completely turning a blind eye to 3,000 real Palestinian babies? I'll never understand what caused it."
WATCH: White House responds harshly to Biden's 'inappropriate' nickname given by anti-Israel critic
"[T]"This is the moment I become the thing I hated most," Chaudhry wrote in a post on Oct. 17, including two photos of the Brandenburg Gate in Berlin, Germany, one of which showed a photo of the German border with Israel after the attack. A photo showed an Israeli flag lit in solidarity. The other is from a ceremony during the 1936 Olympics, when it was decorated with the flag of Nazi Germany.
In another post on Nov. 6, Chaudhry appeared to suggest that Israel's mere existence as a state was the cause of the ongoing war, writing that it was an "inconvenient fact." . She included an image of the words "It all started in 1948," the year Israel was founded.
Other information in the weeks after the attack included Chaudhry's words honoring the "martyred Palestinians" and an Islamic prophecy that "garrisons defending Islamic lands will be stationed in Ashkelon" (Israel's northern city). It is shown that the user is sharing a post that quotes something that appears to be. Gaza Strip.
Democratic Socialist MPs do not condemn violent anti-Israel protests targeting party headquarters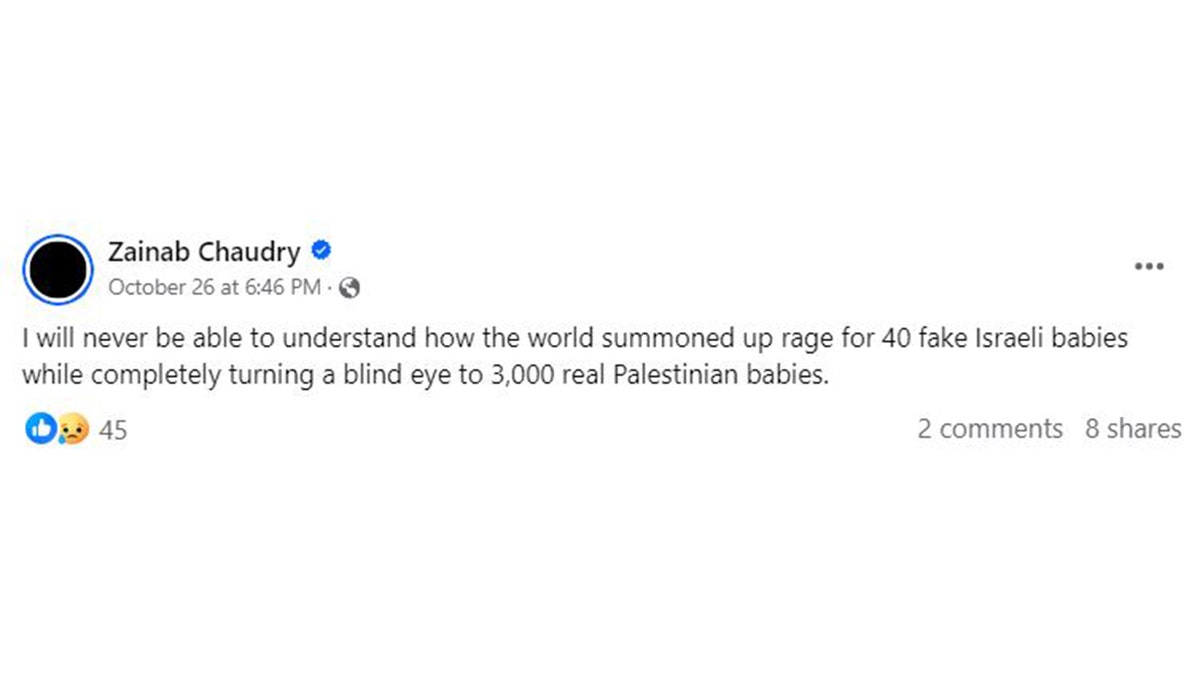 Despite these posts, Chaudhry continues to maintain his ranking. Maryland Hate Crime Response and Prevention Commissionshe was appointed to the position by Democratic Maryland Attorney General Anthony Brown in August.
Brown's office said the commission's goal is to address hate crime incidents across Maryland, "to communicate diverse perspectives and promote understanding in a positive and meaningful way."
Jennifer Donnellan, a spokeswoman for Mr. Brown, told Fox News Digital that "the views and opinions of individual commissioners do not reflect the views and opinions of the members of the committee." Maryland Hate Crime Response and Prevention Commission or the Attorney General. "
Biden's approval rating declines over the Israel-Hamas war. Trump approval rating rising in 2024: Opinion poll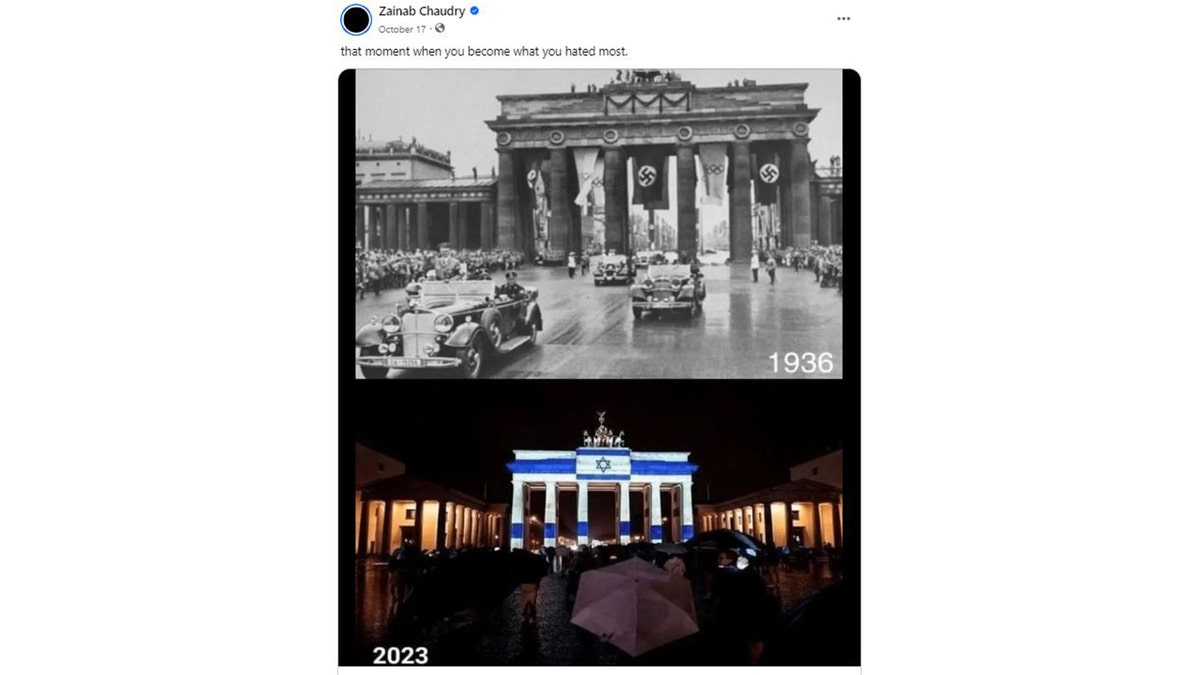 "We understand that there are many views on current events occurring in the Middle East. and will do its best to determine how best to deal with incidents of bias," she said, adding that the committee will develop "policies and protocols to govern its work" and that its members will discuss how they approach this issue. explained how it would be involved.
"Just as we encourage others to do so, the European Commission intends to identify ways in which we can foster productive and empathetic dialogue leading to mutual understanding among ourselves. Like the rest of the world, we must first talk to each other and, most importantly, listen to each other as we work towards the goal of peace and tolerance." she added.
Asked for comment, Chaudhry told Fox News Digital that the "Nazi post" was originally shared "by a close Jewish friend," and later claimed that the Israeli government wanted genocide against Palestinians. He said he blamed it.
State University of New York cancer doctor sues hospital and school over pro-Israel post, says he is a 'sacrificial lamb'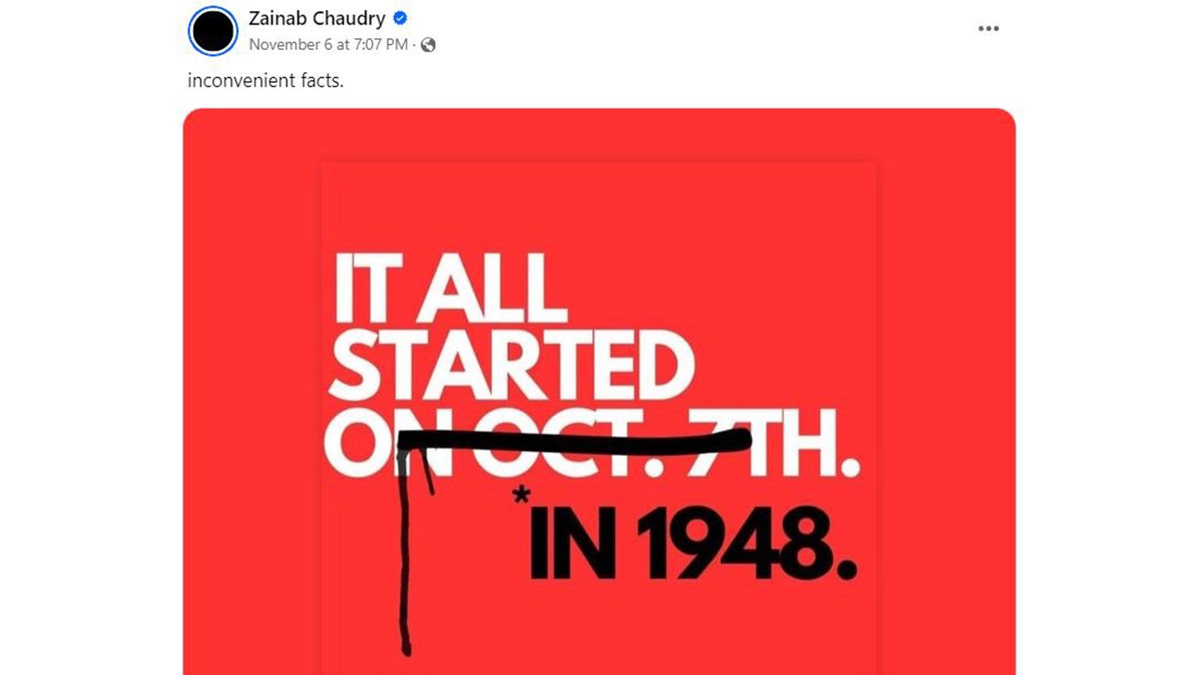 "Israeli Prime Minister likens the bombing of Gaza to an ancient Biblical story about the city's complete massacre, [and] Declaring that there are no innocent civilians in Gaza, Israel's defense minister justifying starving Palestinian civilians by calling them "human animals," and an Israeli military spokesperson saying the bombing campaign was aimed at destruction, not accuracy. He said that there is. "Several Israeli ministers have called for ethnic cleansing of the Gaza Strip, with some even calling the ongoing war 'Nakba 2023,'" she said.
"I believe that Prime Minister Benjamin Netanyahu's far-right racist government has repeatedly made such genocidal threats against the Palestinian people, killing more than 13,000 Palestinians in the Gaza Strip and killing most of them. I strongly and unapologetically condemn the killing of women and children in their own homes. Unlike many governments in Israel, I strongly and unapologetically condemn the killing of civilians. "We recognize that this is wrong, which is why my office has repeatedly condemned the killing of both Israeli and Palestinian civilians," she said.
CLICK HERE TO GET THE FOX NEWS APP
"There is no contradiction between condemning the Israeli government's genocidal war crimes abroad and confronting all forms of hatred here at home, including anti-Semitism, Islamophobia, and anti-Palestinian racism. , the false smears by anti-Muslim extremists will not stop, 'I cannot stand up for justice at home and abroad,' she added.
Fox News Digital has reached out to CAIR for comment.