The New York City Police have made no arrests a day after a suspect allegedly hit an officer with his car while trying to escape authorities during a traffic stop on Wednesday.
The incident occurred around 4:55 p.m. near 30th Street and Park Avenue in Midtown Manhattan, a police spokesperson told Fox News Digital. According to law enforcement sources, police had issued a traffic stop to a person in a black sedan when the driver turned in documents that were later found to be fraudulent. bottom.
Sources said the driver fled the scene shortly after. The suspect, who had a temporary Michigan license plate, was initially stopped for making an improper lane change.
As officers tried to get the suspect out of the vehicle, the driver backed up, injuring the officer.
WATCH: NYPD officer injured after fleeing car
The New York City Police Department said the officer's condition is stable.
Police were unable to identify the suspect after an extensive search, sources said.
Woman tried to kill lookalike to steal identity but left DNA evidence: prosecutor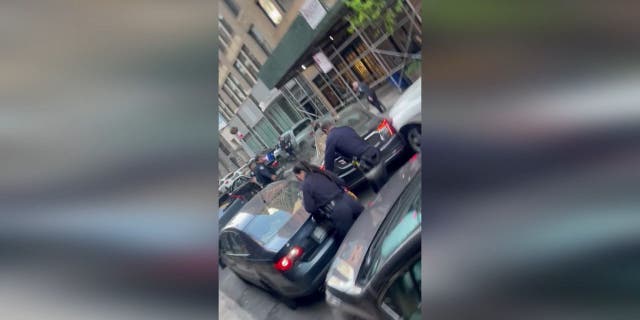 Video of the incident appears to show the suspect backing up before hitting a car, then moving forward and smashing into another vehicle.
CLICK HERE TO GET THE FOX NEWS APP
In the video, two police officers can quickly get out of the way.
No other injuries were reported, police said.