The foreign secretary has warned Britons stranded in Sudan it could be "impossible" for the UK to evacuate them when a ceasefire expires later – as he urged people to head to an air strip as soon as possible.
James Cleverly told Sky's Kay Burley: "We cannot predict exactly what will happen when that ceasefire ends, but what we do know is that it will be much much harder – potentially impossible."
He said that – as of Wednesday night – 536 Britons had been rescued on six flights and that a "steady flow" of people were arriving at an air strip to board RAF planes.
Time is ticking down on a 72-hour ceasefire between Sudan's two warring factions, which is due to expire at midnight local time (11pm UK time), and there are fears clashes that have killed hundreds will continue.
Mr Cleverly urged UK nationals who want to leave Sudan to go to the Wadi Saeedna air strip near Khartoum as soon as possible.
"There are planes, there is capacity – we will lift you out. I'm not able to make those same assurances once the ceasefire has ended.
"So if you're planning to move, move now," he said.
At least 512 people have died and thousands injured since the power struggle between Sudan's army and paramilitary group Rapid Support Forces (RSF) descended into fighting almost two weeks ago.
More than 2,000 Britons in Sudan have registered with the Foreign Office evacuation plan, but thousands more could be in the country.
Sudan: Relief and joy to be back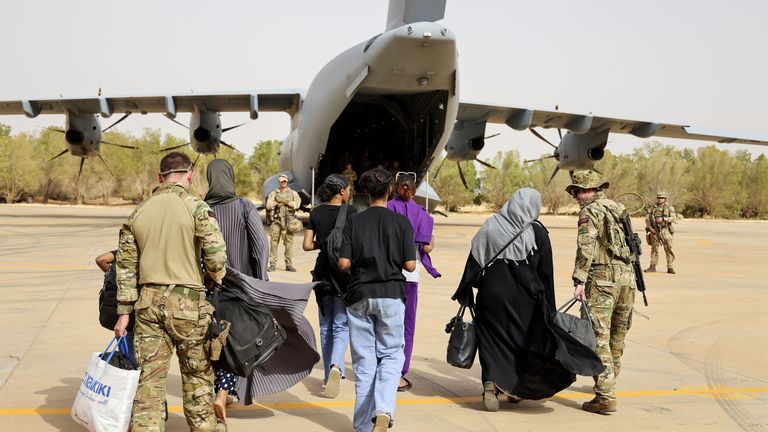 Only British passport holders and immediate family members with existing UK entry clearance are eligible for evacuation.
They are being evacuated on RAF planes to Cyprus, before being flown to London.
An evacuation route from Port Sudan is also being worked on and HMS Lancaster was heading to the city. Other countries have being using the city to get people out.
Home Secretary Suella Braverman has ruled out introducing a safe and legal route for asylum seekers in Sudan to seek refuge in the UK.
She said there were "no plans to do that" and the focus was "first and foremost" to "support British nationals and their dependants".
Read more:
How can British nationals get to the RAF base?
Traumatised Sudan evacuees describe 'horrendous' scenes
Some have criticised the government for being too slow to start its evacuation plan, with countries such as Germany completing evacuations on Tuesday night.
UK diplomats and their families were evacuated from Sudan on Saturday.
'No plans for safe routes for refugees'

Africa minister Andrew Mitchell said the mission was now "going very smoothly" but warned we are "in the hands of the ceasefire".
He told Sky News "we are doing everything we can" to prolong the truce, adding that "if the combatants don't lay down their arms and return to barracks" there will be a "humanitarian catastrophe".
The head of Sudan's army said on Wednesday evening it had "initially accepted" a plan to extend the ceasefire by another 72 hours.
'Situation in Sudan is dire'

A statement indicated General Abdel Fattah al Burhan was open to sending an envoy to the capital of South Sudan, Juba, for talks.
The Intergovernmental Authority on Development, an eight-country trade bloc, proposed the truce deal, which includes both the army and the RSF sending representatives to discuss a longer ceasefire.
There was no immediate comment from the RSF, which, if accepted by both sides, would mark a major breakthrough.
Click to subscribe to the Sky News Daily wherever you get your podcasts
The fighting has pushed Sudan's population to near breaking point, with food becoming scarce, electricity cut off across much of the capital and other cities, and many hospitals shut down.
Multiple aid agencies have had to suspend operations and the UN refugee agency said it was gearing up for potentially tens of thousands of people fleeing to neighbouring countries.