University officials need to reprimand students and administrators who violate free speech policies and stop stepping into a "woke mob," a former law professor told Fox News .
Ilya Shapiro, a former law professor at Georgetown University, told Fox News, "University officials . He is a low-spirited coward," he said.
Former law professor calls on Stanford University officials to enforce their own policies. clock:
See more FOX News digital originals
The Federalist Society's chapter at Stanford University has invited Fifth Circuit Court of Appeals Judge Kyle Duncan to speak at the university's Law School on March 9. He was unable to finish his lecture and a U.S. Marshal escorted him off campus.
"People should be allowed to protest … but heckling shuts down the event. It's not against free speech," said Shapiro, now director of constitutional studies at the Manhattan Institute. "It imposes freedom of speech on others."
Former Georgetown law professor who gave lecture on free speech called racist by students
Stanford DEI Associate Dean Tyrien Steinbach joined the student protesters, claiming that Duncan's ruling caused harm. They said the judge's ruling hurt, noting, for example, the 2020 opinion's refusal to use pronouns favored by transgender offenders.
Steinbach also questioned the school's free speech policy and whether Duncan's remarks were worth the "pain and division" his presence caused.
"Horrible," Shapiro told Fox News. "Steinbach should be fired."
Watch a Stanford student shout out to a federal judge.
Stanford Law Dean's Shameful Attack on Free Speech Means This for the Education Mob
"She didn't enforce school policy," Shapiro said. "She should be fired for her dereliction of duty, not for her speech."
Stanford University Campus Suspension Policy The university says it supports the right of students to protest against views they disagree with, so long as they do not "prevent or interfere with the effective performance of the functions of the university." According to Shapiro, the dean urged the students to interrupt and end the judge's remarks rather than protesting his views.
Shapiro himself is familiar with the cancel culture.
Last year, Georgetown put Shapiro on leave after he criticized President Biden's pledge to elect a black woman to the Supreme Court. Although he made it clear he didn't want to, Shapiro eventually resigned after a student pleaded for him to be fired and said his remarks were racist.
Meanwhile, at Stanford University, a student could be heard shouting "your racism is showing" during Duncan's remarks. apologized to a judge after the incident, and on Monday hundreds of students lined up in the hall outside Martinez's classroom wearing masks that read, "Rebuttal is free speech."
"It makes me think about future leaders," Shapiro said. "It's not even about ideology or constitutional interpretation. is."
The value of supporting policy, freedom of speech, "if students are not taught how to understand perspectives from different sides, we will have far more problems on campus than having speakers shut down." I have," Shapiro said.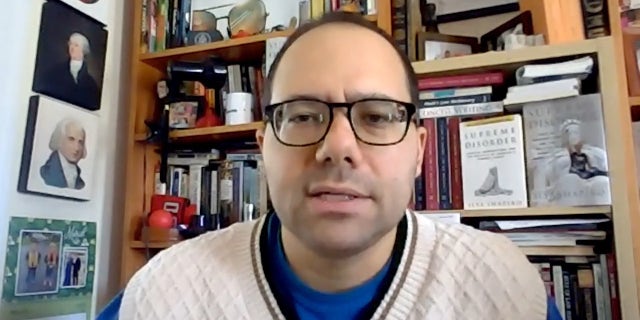 CLICK HERE TO GET THE FOX NEWS APP
University administrators "failed to see the value of freedom of inquiry, freedom of speech, civic discourse and due process," Shapiro said. These values ​​"should be central to or beyond the mission of the law school."
"We need results," Shapiro said. "Otherwise, this thing will spread."
Stanford did not respond to a request for comment.
To see Shapiro's full interview, click here.